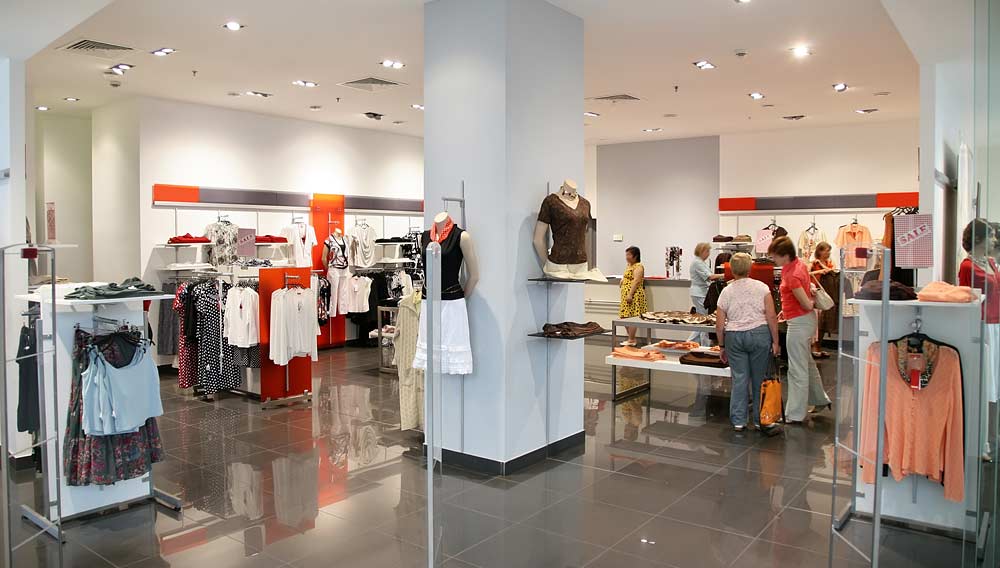 Each investor has his own preferences when it comes to launch an apparel store. Whether you are keen to open a kids store or women's apparel boutique, do your homework first and then think of investing your hard-earned money. We have consolidated a list of must do's for investors as suggested by retail experts across the industry.
Research
Explore research reports of well-known consultants to know the current market trends of apparel industry and see what potential it has.
Conduct a city or market specific research to find out best performing brands, visit the brand's franchisee-run store, talk to them and know happy franchisees they are and how much returns they are regularly getting.
Depending on the investment capacity, select the retail format in which you are willing to invest – it can be an exclusive or a multi-brand outlet franchise.
New franchisees must visit franchise exhibitions and conferences to know about new and existing brands. Exhibitions are a perfect platform for networking and connecting with multiple brands from various segments to know what they are offering to first time franchise buyers.  On the other side, conferences help franchisees to meet and interact with company's managing directors or brand head that guide about the opportunity they are offering to franchisees.
A franchisee should have some retail experience in managing apparel store as it will be helpful in operating the brand's franchise successfully.
Investment 
Investment varies as per the area, store size, retail format (exclusive, multi-brand, distributorship and online retail), and lastly the market (metros city, tier II, III or IV city) where you are planning to open a franchise store of a well established brand.
Ideally, Mens' apparel brand's franchise requires a capital of Rs 50 lakh and more as for setting up store one also needs to invest in interiors, fixtures and visual merchandising. Also, in apparel franchising, the franchisee invests in stock on consignment basis as per the company's policy. On giving a sincere advice to franchisees, Rahul Jhamb, Brand Head –Planet Fashion, part of Madura Fashion and Lifestyle, says: "While having industry experience helps, what really makes the difference is the passion for the business, an aptitude for learning, and a long-term outlook to grow with the organisation. We believe in extending full support to our new franchisees in terms of training, orientation and on-boarding into the apparel retail business." Whereas in Kidswear industry, Srinath Ramamurthy, VP – Franchise Operations, Mom & Me, a flagship brand of Mahindra Retail, informs: "The cost to run a Mahindra Retail franchise depends on several factors. Whether the franchisee owns the place or has taken it on rent, size of the store, utilities cost, manpower cost, store development cost, etc. The initial investment ranges from Rs 35 to 40 lakh approximately."
Investing in franchise business means you will have to invest in franchisee fee, equipments, furniture and fixtures and advertising or marketing initiatives so it's advisable to ensure that you have adequate capital to run the brand's franchise. A franchisee can also rely on easily available funding support from banks to raise the capital for business.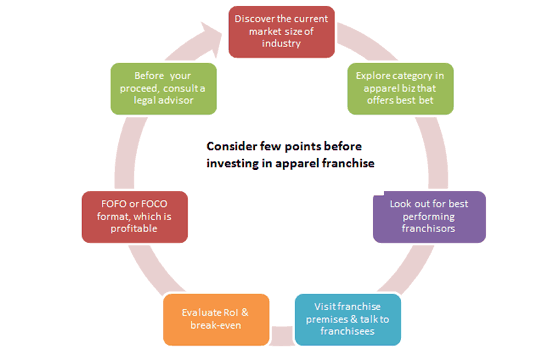 Know your target consumer
Before you decide to invest in franchise of a reckoned brand, understand your target consumer in terms of what they like and what else can be added to maximise footfalls. If you succeed in knowing your target consumers well then it will be helpful in fetching profits.
Location
Selecting a potentially feasible location can turn out to be biggest game changer in attracting footfalls. Scout for a profitable location which is easily accessible by customers. High streets, commercial hubs and malls are preferable for opening apparel store franchise. Pick at least two-three locations which are capable of doubling sales and profits.
Evaluate RoI & expected break-even
Before you invest in any brand's franchise, it's very important to know how much return on investment (RoI) and expected break-even your franchisor is committing to offer.  As a new franchisee, it's very essential for you to evaluate RoI and breakeven that top brands are offering and only then think of taking the next step.
Due diligence of business model operations
There is no doubt that franchising is a proven concept of doing business without any fail but franchisees must tread ahead with caution as franchisees are expected to be in line with company's vision and maintaining uniformity to avoid brand dilution.   Like RoI, the business models such as Franchise-Owned Company-Operated (FOCO) and Franchise-Owned Franchise-Operated (FOFO) also play a significant role in pulling revenues. So, talk to existing franchisees and discover which model boosts more revenues. Also, it depends on one's capability to operate the brand's operations independently or in collaboration with the company.
Consult a legal expert prior to signing the agreement
If you are new to business make sure you consult the legal advisor who has know-how of franchising business. Most of the times, it happens that franchisee signs the agreement without knowing about the franchise terminology and often fails to negotiate on certain negotiable terms like exclusivity or territorial rights etc.  So, talk to franchise expert as he/she has more knowledge about the brands that are currently doing well and will help you clinch a safe deal. Agreeing to the same, Karnika Seth, Cyber & IP expert, Seth Associates, says: "One should also meet legal expert to discuss contract clauses with franchisor, what a contract must contain and what should be avoided, royalty terms, marketing obligations, promotional offer restrictions such as on buy –one get-one schemes, trade dress of the store and IP due diligence checks."
Enlightening about the key steps to follow, Seema Jhingan, Partner, Lex Counsel Law Offices, says: "Franchisees should also clearly understand the limitations to the use of the brand name/logo/trademark of the franchisor that is proposed to be licensed to the franchisee. Also verify if the franchisor has already granted similar rights in the territory." She also adds: "Franchisees must ensure to address the exit options available to them under the franchising arrangement and post termination inventory handling issues."
Customise as per ongoing trends
Once you decide team up with franchisor, it's vital for a franchisee to go that extra mile to explore and customise as per the market demand and what products are more sellable. If you consider opening your store in tier II or a III city, it's important to discover what trends are actually brimming within the market, explore the customers' buying behavior, what is trending within that area, people's buying capacity, income levels, literacy rate and the working class which will actually give you an idea about the customers' mindset and then putting your strategies in place to offer the best bet to the target customer. New franchisees can also explore about the kind of fashion stores that are already present within that specific location and see what factors are generating footfalls at their stores.
Word of advice
Franchising is not meant for all the investors. Without carrying out extensive research and planning can riddle you with unexpected obstacles and risks. So before you take the final call, make sure you are well acquainted with the market, customer buying behavior, business concept and how can you turn it into a lucrative opportunity.
http://www.franchiseindia.com/content/Eight-easy-steps-to-launch-apparel-franchise.